I hardly have an ounce left in me to type, but I feel as though I should explain how this is going. Not well. It is happening. Exactly like they said it would. I would be sick. And then I would be sicker. And the good days would grow shorter and the bad days would be so long you would wish death just to have them over. Here I am, wishing there was a different way. A better way. This is the only way not to die, and they are killing me.
You can say you've been tired. You can say you've not felt well. In fact, I know that I have myself, had the flu so badly, worked myself into such a state of disrepair, that I too, thought I knew what it felt like to be hit by a bus. But no. You don't really. After they start pumping you with chemo, and then steroids, and then more chemo, and then blood cell boosters, and then more fluids, for hours, your stomach swimming, to the point you start swelling up, hallucinating, grinding your teeth, visualizing yourself just grabbing those tubes and ripping them out and running away screaming… you cry all the way home because you can't believe that after all that now you can't feel your fingers, your skin is on fire, your head is splitting open, your hands tremble uncontrollably and all you want to do is throw up. You wake up a few hours later and try not to vomit but the excruciating bone pain that radiates across your chest, your arms, your back, your legs… exhausted, your legs don't work and you can't get to the bathroom, and you can't roll over, you can't find comfort in any place, the room spins without reason. And then you're soaked in sweat, crying again because this is nothing a body should suffer for this long and it's terrifying to know without a doubt that you have to, that there are still months and months to go. People talk too loud, too fast, asking questions through a fog that wraps itself around your brain and keeps the words from coming and the thoughts from staying. You can't chew. You can't swallow. Your mouth, your gums have been reduced to raw flesh. Chemo seeps out your eyes and glues them shut. Days and days go by like this and you can't remember what day it actually is, what time it actually is because your eyes are closing again. You wake up and it's all still just as it was. Miserable. And there's nothing anyone, not one single human being with any sense or not on this whole earth, can do about it.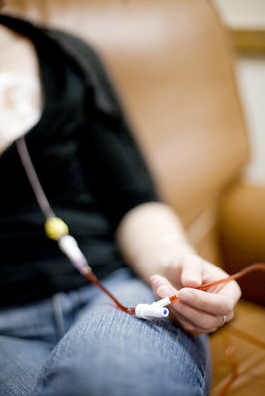 I don't tell you any of this as a way to summon pity or elicit encouraging comments, although all of you are so kind and wonderful and every cheer counts. This is just how it goes right now. Not well. And you've been asking, so…
My kick-ass friend Ezra says we are not heroes, and we expect no medals of honor for bravery. That we don't fight, we just keep getting up. He knows a bit about this, and no matter how miserable this gets, he does. So I will.
~A.
You can watch Geneve's "Chemo Day" Slide show HERE.
*photo by Geneve Hoffman