When I say I'm OK, I need you to believe me. I've been practicing for this my whole life. Building on one experience after another. The good, the bad, the ugly. It all adds up to one tough girl. And when I tell you this you have to believe me – I've never been more ready for anything in my whole life. Of course I'm scared. I'm 38 years old and I have cancer and I'm about to undergo a procedure at York Hospital that's never been done there before. A nipple sparing bi-lateral mastectomy with full reconstruction, all in one day. Wha??! But you know, tomorrow, I'd like to think of it this way… By this time tomorrow, I won't have breast cancer anymore. And that's something. BIG. (34 C's to be exact.)
I've felt almost normal in these last few weeks. Better than I've felt since I left Berlin. I walked 5 miles on Sunday with Asher. And went to yoga this week for the first time since the New Year, chest port be damned. I'm eating again! My last chemo treatment was the 8th, and since the 22nd, when I decided to throw everyone a little curve ball and ask if we could do this differently (they said YES!), they've given me a few weeks reprieve to prepare for surgery. Last week, the chemo fog lifted just enough for me to finally have the presence of mind after 2 months of living hell to realize something… HOLY SHIT I HAVE CANCER!! And I had to take a few days off of being OK to grieve a little. I know, I know, I still have to heal and then start another 3 months of weekly chemo. But here I am on the eve of it all, confident in my surgeons (these gals rock!), and knowing without doubt that this will save my life. (Basically, I don't have a choice so I better just get OK with it.) Believe me.
I've had a lot of people ask me over the last few weeks how the hell I'm walking around like I'm on a cloud, smiling, laughing, joking. It's pretty easy, actually. I am surrounded by people who love me and want me to live, and they tell me all the time. How can you be upset about that? I am so loved and it's an unreal feeling. Humbling, really. I also have a lot of friends with fantastic senses of humor, and this whole entire mess is one of the funniest things we've ever encountered. The whole of it. None of it makes any sense, and things that don't make sense can almost always be found comical (for starters, I'm bald! Ha!). Looking at this any other way would be a terrible waste of precious time.
Believe me.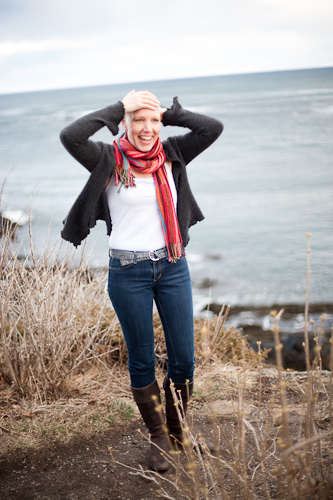 So to get right down to it, in a few more hours my amazing team will roll me under the big bright lights and get to the business of saving my life. I can't wait.
Believe me.
So much love,
~ Ali
Many thanks to Geneve Hoffman for giving me a few much needed days of pampering with the amazing gals at Glow Bodywork, and then taking me out to the sea. XO