And the truthahn is gefroren.
Have fun Googling that.
It's Thanksgiving in Berlin. Well, it's Thanksgiving in my room, and I am grateful for the little box that arrived from the US yesterday filled with birthday presents, cranberry sauce, a couple of sweet potatoes (?!), dates, Stovetop stuffing, pumpkin scone mix (just add wasser!) a canned ham (?!), a jar of peanut butter and a paper tablecloth and napkin set with turkeys on it. Thanks, Mom.
But perhaps today I'm even more grateful for what woke me up this morning. No, it wasn't a sound check at the Jågerklause (lucky for them), or a circular saw across the hall (that was yesterday), but rather SUNLIGHT. I'm not exactly sure what I did to call up such a phenomenon, but today, after snow and gloomy darkness just hours before, in all it's cloudless sky glory the sun was out. Lucie Belle! Wake up! Get your chain on and let's go!
Bundled against the -5C temp and wind, Lucie Belle (that's my bike for those of you who think I've recently shacked up with a Southern girl) and I hit the pavement and headed to Prenzlaurburg Allee in search of a turkey, a bookstore, and a projector. Agreed, that list is about as random as any list of mine on any given day in Berlin. It's part of the adventure, the challenge, the charm, but I digress…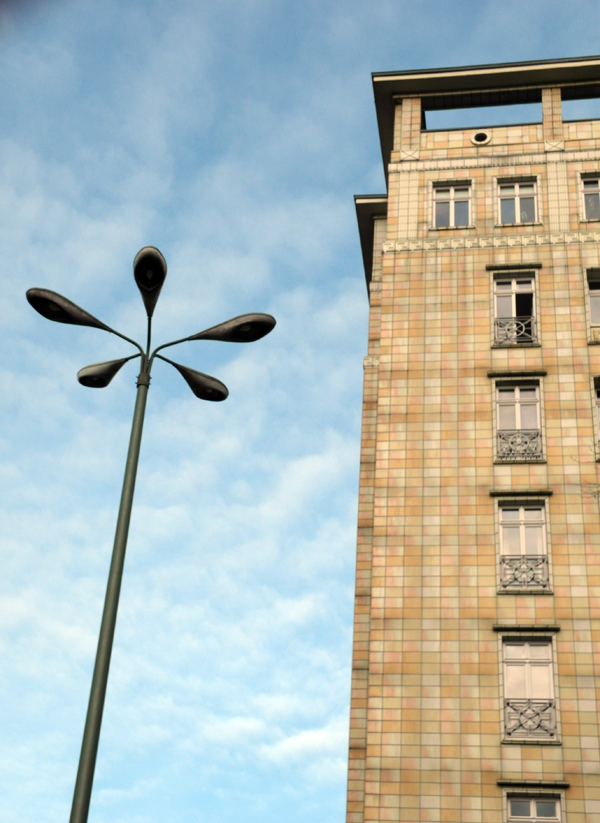 And so it was, a sunny Thanksgiving day, doing what I love to do most here, which is ride my bike aimlessly (sort of) around Berlin, breathing in the construction dust, the car exhaust, freezing my ass off and trying not to get run over by an ambulance or a trash truck, or another biker (I'm still working on my Berlin Bike Etiquette. The rules are in German. Gimme a break).
Did I find the turkey? Yep. And it was, not unlike my very first Thanksgiving dinner on my own, still frozen. Did I find the bookstore? Well, I found A bookstore where the OTHER bookstore was supposed to be but no, I guess I didn't. Did I find a projector to rent for my upcoming show this weekend? Lots of them. Very expensive ones. And not unlike most things European, the price online and the price for showing up with a US Passport spans miles. And no sir, I do not have a eurocard or a registration or whatever it is you want me to present to secure the rental or $100 euros deposit in cash please stop flailing your hands at me and muttering in German I'm standing right here.
So, did I arrive home empty-handed and downtrodden? Not in the slightest. A secret little Christmas Market, at the end of the narrow Allee of Wørtherstrasse had crépes to order. Kinda got used to a couple of those a day in Paris last weekend (sigh). And so I had not one but TWO. Pretty satisfied with my aprikose fix (that's apricot jam to you gringos), I headed down another side street, a shortcut, to the Allee that would return me to my warm apartment and a cup of tea (and my box of grateful goodies), and there it was.
A tree.
A magical, magnificent, wonderful tree.
A tree that would send my dear friend Susan into fits of giggles and snorts.
A tree with tiny little doors to tiny little compartments, filled with books.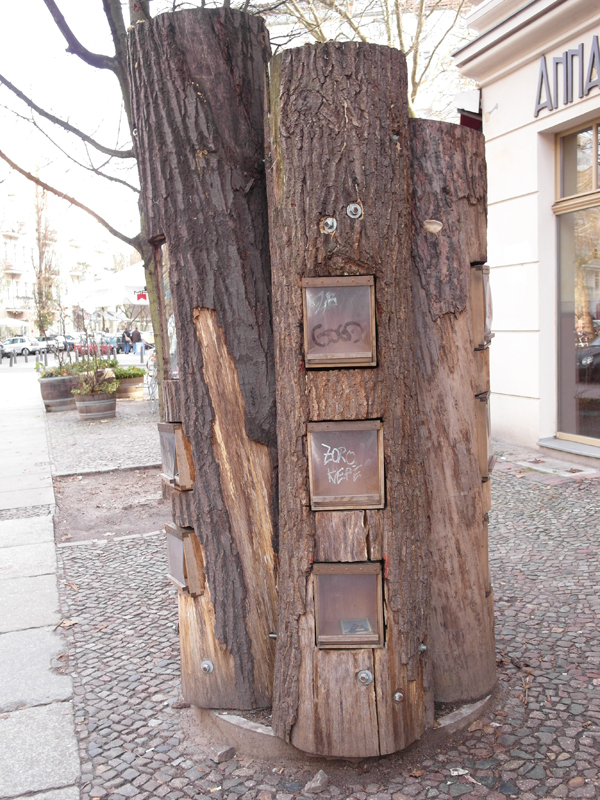 A take one, leave one book tree, and it's sole purpose was to share the love of reading with anyone walking or pedaling by.  Two in English found their way into Lucie Belle's basket, and over the river and through the "woods" to our Berlin home we rode. Barely able to feel fingers or toes and happier for it. Choking on Ubahn-encrusted air. Sunshine on my face for the first time in almost a month. Stovetop stuffing in my room. Eternally grateful for all of it. All of it.
Happy Thanksgiving to the many I love both near and far.
Ian, don't you DARE touch my plate.
XO